Since moving here, many people ask me about my favorite spots and favorite things to see and do so I created this page that I'll continue to add to as I explore more!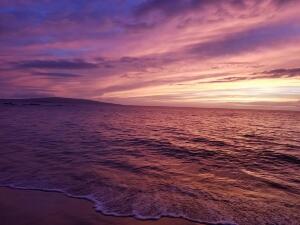 The best guidebook for Maui is
Maui Revealed
by Andrew Doughty.
It gives you specific directions to many of the best spots for hiking, snorkeling, eating etc.
My favorite driving app is
GyPSy Guide
Free Range Comedy
typically performs 3x/month at venues in Kihei, Haiku and Wailuku.
Maui Improv
(my long form improv group) typically performs on the last Sunday of the month at Pro Arts Theater in Kihei. Plus, if you want to try it out, there are $15 drop in classes every Wed night at Heritage Hall in Paia from 6:30- 9:30pm
Pro Arts Theatre
- Kihei 
Iao Theatre
- Wailuku 
(Still closed)
1st Fridays - Wailuku (one of the best)
2nd Fridays - Lahaina (not worth the trip unless you're already up there)
3rd Fridays - Makawao (also good)
4th Fridays - Kihei (large with a better variety of vendors + chair and table massage)
5th Fridays (when there is one) - on Lana'i Island
(not in any particular order)
1) Road to Hana
- this is a full day and you'll want to start early. Driving it is fun or a challenge depending on your attitude. It is a switchback road with 60 some bridges many of which are one lane. There are tons of large waterfalls right off the road, lush rainforests and flowers and many many hiking trails that lead to more waterfalls. Note - staying overnight in Hana is a great option which will allow you time to see and do everything along the way and beyond Hana (like 7 Sacred Pools and Venus Pools)
My favorites stops along Road to Hana: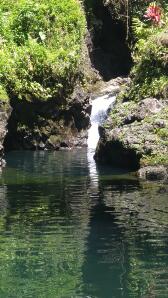 Bamboo forest/4 waterfalls hike
(not currently open)
- just after the 6 mile marker. This trail is always muddy and if it's been raining a lot you won't be able to cross the stream to see the falls. It's not an easy hike but the waterfalls are great and it's a fun adventure walking through the bamboo forest
Ke'anae Peninsula and Village
- gorgeous little detour and a good place to stop to eat or use a bathroom. The turn is a left off Hana Hwy. Auntie Sandy's has the best banana bread on the island! 
Chings Pond
- is before the 17 mile marker (pictured here). A short hike down to the pond reveals a nice little waterfall that can't be seen from the road. The pool is great for swimming. It's cold and deep and I feel it has healing energy.
Wailua Iki Road hike
- is after the 21 mile marker on the right. You'll see a gate and will walk up a long "driveway" - stay to the right to follow the trail to a valley and incredible waterfall you see from above. Keep walking on the trail for another waterfall and swimming spot.
Just before Hana...
Wai'anapanapa State Park
has easy hiking paths, gorgeous views, sea arches, a black sand beach and fresh-water pool caves. The road was really rough the last time I visited. No problem for an SUV but can be a bit tricky for a compact car. 
Red Sand Beach
 - in Hana. This is a gorgeous gem unlike any other beach you'll see on the island! However,
it can be a dangerous hike
. I have done it safely several times, but the last time I was there someone fell 30 feet off the path to the rocks below. That shook me and I likely won't return. If you do go, you need good hiking shoes and must take the high dirt trail slowly and carefully. I would not recommend this hike with small children at all!
2) Iao Valley
- state park at the end of the road and lower park. This is one of my favorite places on the island. The state park at the top is only a $3 entry fee or park on the road and walk in for free. The history is interesting to read and you can walk up many steps to the top and do some other little loop trails. There are also longer trails that wind through the forest and near the river that you can access to the right of the loop trail. There are fresh water (cold) swimming pools often along the river that can be very refreshing to cool off while hiking!
Below the state park are the Heritage Gardens. That park is free. If you're adventurous and have hiking shoes you don't mind getting wet, you can climb over rocks and even cross the stream to a sweet hiking trail. (The bridge to the trails has been closed for awhile due to storm damage). Bugspray is helpful if you hike on the other side because it's woody. There are often fresh water swimming holes along the river here too and you'll see llittle waterfalls as well.
3) Ho'okipa
- do this on the same day as Paia town as they are close to one another. Both are on the way to Hana but I would do Hana as a separate trip.
Ho'okipa is just before the 9 mile marker outside of Paia town. The parking lot entrance is marked in the ocean side of the road. Park on top first (see Lookout info below). Then drive down to the beach to see the turtles.
Ho'okipa Lookout is a parking lot on the edge of a cliff overlooking the water. It's on the North Shore (five minutes past Paia) and is a world-renowned surfing and wind-surfing destination. During the winter months, when the surf is higher, this is a great place to watch surfers. You can hike down to a rocky area near the water on the far side of the parking lot.
Turtles pile onto the beach at Ho'okipa usually after 2pm. They are protected so have an area flagged off for them. Walk to the far right of the beach to see the turtles.
4) Paia town
  - on the north side, is a hippie place with lots of great little shops and the best health food store on the island, Mana Foods. If you want a quick grab and go meal they have a hot food bar and cold salad bar. Paia has some of the best places to eat on the island too - Cafe des Amis (amazing crepes you can get GF), Paia Fish Market and Cafe Mambo are good. Plus there's another less known cafe up Baldwin Ave that had great lunch options.
5) Olivine Pools, Blowhole and Labyrinth
- on the
west side
up past Napili. You want to go to the pools at low tide (unsafe at high tide) and it's a pretty strenuous hike so hiking shoes are needed and it's best to bring a backpack to keep your hands free. As always when hiking make sure you bring drinking water! The swimming pool is incredible and its green from the olivine stones embedded in it. Stunning actually.
I would drive straight to the Olivine Pools and then work your way back to the blow hole (if you want to see it) and labyrinth and end at Napili. The road beyond the pools is literally one lane and scary as hell to drive, especially when you meet another car. If you're really adventurous this road leads all the way down to Kahului. I drove it once after only being on the island a few weeks and vowed never to drive it again.
Olivine Pools
will take about an hour and 15 min or hour and a half to get to from Kihei. Follow highway 30 until the state road ends. Youll pass a deep dip in the road. Then 1/2 a mile past the end of the state road (the sign was missing last time I was there) but before the 16 mile marker (mile markers start at 16 on the county road) is the Bellstone. This is a large boulder on the right side of the road that looks like it's been hit several times. If you hit it in the right spot supposedly it can make a metallic sound - I've never tried. The parking area for the Olivine Pools hike is just to the left (ocean side) after the Bellstone.
Once on the trail, follow it to the warning sign (and Memorial). Take the trail to the left of this. This soon becomes a sea of rocks and the way down is your own to choose. If you see other people coming up, head in their general direction. The pools used to have a large cross right behind them but either someone removed it or mama ocean took it at high tide. The large main pool is very deep and lovely for swimming. You'll see fish in there too!
Nakalele Blowhole
is located 1/2 mile past the past the parking lot at the 38 mile marker (there's a wide turnout with boulders). If it's blowing well, you can see it from above. This area always seems to be really windy. I haven't hiked down to the blowhole itself because you can see it pretty well from above.
Ohai Trail
is just past the 40 1/2 mile marker and has it's own paved parking area. There's a nice loop trail with gorgeous views. Take the path around to the right (instead of going straight/left) for a prettier hike and views. It's an easy trail, but if it's been raining a lot may be muddy.
Honolua Bay
parking area is easy to find because it's by the porta potties (only bathrooms along this route). This is a nice little hike through a forest. It can be muddy if it's been raining. Snorkeling in the bay is great if it's calm, but it's a very rocky entry so water shoes are helpful. There's lots of fairy energy (elementals) in this forest.
The Labyrinth is in Kapalua
. Take the turn for Kapalua and follow the road in. Where the road curves left take a right and then you'll see the parking lot. Hiking shoes are helpful as the trail is over rocks.
The Sea House Restaurant and Beach in Napili
is a sweet spot for a delicious meals. The little restaurant by the beach has great views and that beach, although often crowded, is great for a swim.
6) Wailea Beach/Hotel Walk
- there is a 3 mile paved walkway that passes a number of beaches on the water side and the ritzy Wailea hotels opposite them. Best to do this in the morning or later in the day because it can be a very hot walk mid day. Of course you could always dip into the ocean to cool off! There are many snorkel spots along here too. You'll often see turtles in the water and can sometimes see whales from the shore when they are here (Dec - March).
Walk into the Grand Wailea property. The church is beautiful and always open, unless there is a wedding. The lobby of the Grand is a must see too and the views from there to the ocean are amazing.
7) Whale watching tour and/or snorkel tour
Dec - March is whale season. I recommend the
Pacific Whale Foundation
Tour or Captain Andy's
For an adventurous boatride and snorkel tour I recommend
Redline Rafting
. You will definitely get drenched on the boat ride no matter where you sit as the swells are 5-6 feet. Not a good trip for you if you get sea sick. Turtle cleaning station (other fish eat algae off of them) we saw while snorkeling was so cool!
8) Haleakala
- I would do this only if you're here for a week or more as it's a long drive and switchback roads so you would want to space this and Road to Hana out. I would hands down choose Road to Hana over this. And its freezing up there - like colder than Minnesota freezing with the wind so you will need pants, sweatshirts, jackets, hats and mittens if you are going to stand outside for any length of time.
It is like being in heaven, though, up there among the clouds and the views are amazing.
Sunrise means getting there by 4am and you must have reservations which you'll need to make before you come as space is limited and they sell out (they only have so many parking spaces up there).
Sunset I actually thought was better, less crowded and you don't need reservations. There are many hiking trails up there too though I have only done a partial one. You can actually hike into the crater.
Kama'ole I, II and III
Keawakapu
(longest and best for beach walks, swimming, sunsets and more)
Polo
(this is my favorite as there's a nice big lot that never fills up)
There are TONS more beaches...there are just a few of my favorites besides the spots below...
Ahihi Cove
Chang's Beach
(tiny parking lot just past Makena Surf Condos) - good snorkeling and often see turtles here
Kama'ole (Kam) I
around the rocks there are always turtles (can see them from lawn)
Maluaka Beach
Makena Landing
Po'olenalena
White Rock
There are tons of great beaches on the south side and many many awesome snorkel and hiking spots all over the island.
If you're not renting a car and you're staying on the south side, you can use the
Turtle Tracks service
from 1pm - 9pm for only $3/person to take you along south Kihei road and up into Wailea. The owners Pam and Gary live in my complex! 
5 Palms
(great for sunset meal) 
Cafe O Lei 
Da Kitchen
(also in Kahului)
--> closed now :(
Fabiani's
(has GF options too and great Happy Hour) 
Hawaiian Moons Natural Foods
- grocery store + hot/ cold food bar, burgers, wraps and smoothies. 
Maui Brick Oven
(everything is gluten free!) 
-> closed now :(
Monkey Pod
(+ in Ka'anapali) best Mai Tai
Nalu's
- Great Happy Hour & good menu variety  
--> closed now :(
Paia Fish Market
(also in Paia and Lahaina) 
Pita Paradise 
Sansei
(also in Kapalua) seafood and sushi 
Sarento's
(another great spot for a sunset dinner and long beach walk on Keawakapu) 
Three's Bar & Grill
Choice Health Bar (also in Paia) https://www.choicehealthbar.com/
Cool Cat Cafe has a fun atmosphere and best burger on Maui http://www.coolcatcafe.com/
Longhi's (also in Wailea) https://www.longhis.com/
Paia Fish Market
Pioneer Inn has great breakfasts http://www.pioneerinnmaui.com/restaurant.html
Sale Pepe - Great Italian food http://salepepemaui.com/
Star Noodle https://www.starnoodle.com/
Cafe des Amis - crepes (sweet & savory) smoothies, drinks, coffees
Cafe Mambo http://cafemambomaui.com/
Choice Health Bar https://www.choicehealthbar.com/
Flatbread Pizza (also has GF crust) https://www.flatbreadcompany.com/maui/
Island Fresh Cafe (in a former train station) - breakfast/lunch only http://islandfreshmaui.com/
Mana Foods - best grocery store + hot and cold bar http://manafoodsmaui.com/
Mama's Fish House (expensive, need reservations, great for sunset) https://www.mamasfishhouse.com/
Nuka in Haiku (open lunch w/ no sushi + dinner) - best sushi on island! http://nukamaui.com/
Gelato - yummy anywhere!