Postponed to Spring 2021

Led by Teresa Thomas of 50 Fun Things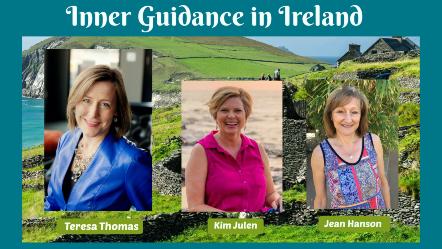 Learn more & Register
Do you get stuck in making decisions in life, career or business?

Could you use a nudge to step out of rumination and into movement forward?

We'll invite in the magic of Ireland as we explore a variety of tools to connect with our inner guidance. Try them out to see which work best for you!
• 50 Fun Things creator, Teresa Thomas will guide you to reconnect with what brings you joy and fulfillment. Focusing on fun provides clarity on clues about what you really want your life to look and feel like personally and professionally.

• Learn several muscle testing methods which allow you to tap into your body's innate wisdom. Through this body assisted intuition you'll garner accurate answers to both simple and complex life questions.

• Connect with your magical "elemental" guides through meditation and practice seeing and feeling them through a walking meditation. Led by Kim Julen, Feng Shui Intuitive Coach of Finding Your Fiji.

• An introduction to using a pendulum for receiving inner guidance on your life questions led by special guest, Jean Hanson, Creative Mystic Intuitive and Higher Guidance Life Coach.

You'll leave mystical Ireland with beautiful memories and equipped with new tools to move you toward a more fulfilling and adventurous life.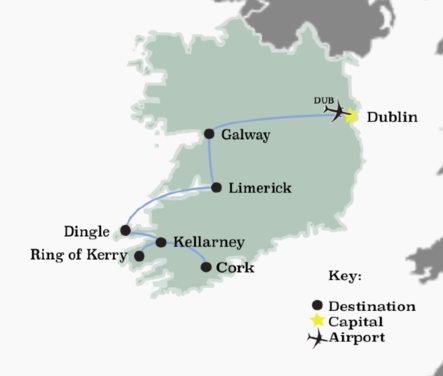 Arrival Airport: Dublin International Airport (DUB)
Day 1 | Dublin
:
Arrive in Dublin where you will be greeted at the airport and escorted to your hotel. Check-in to your hotel, have a relaxing afternoon, and enjoy a traditional welcome dinner in the evening. Accommodation: Dublin Hotel (Iveagh Garden Hotel or Similar)
Day 2 | Dublin to Cork:
After a delicious breakfast, you will be escorted by train or private van (depending on the group size) on a scenic ride to Cork (a scenic 2-3 hour journey). When you arrive in Cork you will be met by your private driver and guide, and embark on an all day adventure in the Cork region – visiting the the famous Blarney Castle. For many, an Irish adventure is incomplete without a visit to 'Kiss the Blarney Stone'. Arrive at the 15th Century McCarthy Castle is the mecca of Ireland, The Blarney Stone, a stone who 'so ever kisses o he never misses to grow eloquent' or so it is said. Spend the afternoon in the Gardens on the grounds and then it's off to explore the Blarney Wollen Mills. Later, visit Kinsale with its yacht filled harbor and picturesque views. Here you will stroll the gourmet capital and enjoy a beautiful afternoon. In the early evening continue onwards to Killarney where you will overnight for the evening. Accommodation: Killarney Hotel (Great Southern Killarney or Killarney Royal Hotel)
Day 3 | Killarney & Ring of Kerry:
Today you will embark on one of Ireland's most famous drives, The Ring of Kerry, where you will be taken to breathtakingly beautiful places no bus tour can reach and most self-guided tours will miss. From the Skellig Ring, looking out to the UNESCO World Heritage site Skelligs where blockbuster Stars Wars filmed two installations, along the coast of the Iveragh peninsula, to Waterville, the summer home of Charlie Chaplin, this tour provides amazing viewing points, endless photo stops and all the Irish history and folklore you could wish for while traveling in pure elegance and safety. You will visit the quaint Village of Sneem, Molls Gap, Ladies View and the power of Torc Waterfall in Killarney National Park as well as many other unique points of interest. In the early evening return to Killarney where you will overnight in your hotel. Accommodation: Killarney Hotel (Great Southern Killarney or Killarney Royal Hotel)
Day 4 | Killarney & Ring of Kerry:
After breakfast visit some of the most scenic areas of The Killarney National Park and Lake District. Time for relaxation and a little bit of people-watching all rolled into one day. Starting at your accommodation, our first stop is the serene Aghadoe viewing point with a panoramic view of the Lakes of Killarney. Take in the truly awe-inspiring St. Mary's Cathedral before a stop at Ross Castle. Conditions permitting, enjoy a leisurely boat ride on the Lakes to Innisfallen and your morning will be off to a gentle start. Then on to Muckross Abbey and the Muckross House & Gardens for morning coffee. Then you'll explore Killarney National Park, visit Torc Waterfall and the breathtaking Ladies View on the way to the charming town of Kenmare, Ireland's first Heritage Town. In Kenmare, "the little nest," you'll have a few hours to stroll the quaint streets, do some shopping, or just sit and watch the world go by. In the early evening return to Killarney where you will overnight in your hotel. Accommodation: Killarney Hotel (Great Southern Killarney or Killarney Royal Hotel)
Day 5 | Killarney to Dingle:
Wake up, enjoy breakfast, and relax while your guide shares the history and folklore only Dingle and its exquisite surrounding beauty have to offer at the most western point in all of Ireland. This day takes you from green, rolling fields to the jagged cliffs overlooking the Atlantic Ocean you've always dreamed of. Considering the true majesty of the Dingle Peninsula is not easily appreciated while attempting to simultaneously negotiate the winding Irish Roads from the "left" side, squeeze by tour buses and avoid the occasional sheep. View the Great Blasket Islands, the site of the Spanish Armada's fateful route, the spectacular Slea Head and so much more. With time for a bite to eat, shopping and a pint or two in charming Dingle, this day has it all. In the early evening return to Killarney where you will overnight in your hotel. Accommodation: Killarney Hotel (Great Southern Killarney or Killarney Royal Hotel)
Day 6 | Limerick to Galway:
Departing in the morning, you'll relax and enjoy the scenery enroute to Co. Clare and the Cliffs of Moher. We'll stop in the picturesque village of Adare with its thatched roofs and quaint streets for you to stroll. After a coffee and time for a bit of exploration its direct onto the world renowned, natural wonder of Ireland - The Cliffs of Moher. Whether you wish to walk the edge and peer out into the Atlantic Ocean or experience the Cliffs from the water via boat, this day tour will fill your camera memory card with memories to last a lifetime. In the early evening you will be dropped at your Galway hotel where you will overnight in your hotel. Accommodation: Galway Hotel (House Hotel or Huntsman Inn)
Day 7 | Galway to Dublin:
Enjoy breakfast, check out of your hotel, and continue onwards to the airport. If you are flying home from Dublin you will take a train from Galway to Dublin to catch your international flight back home (trains depart every 30 minutes and is a scenic 2.5 hour journey from)
Departure Airport: Dublin International Airport (DUB)