This YouTube series will give you practical and fun information around using your innate intuition. Join Dr. Cara Gubbins, Animal Intuitive and Kim Julen, Angel Intuitive, as they share their knowledge around all things intuitive. Get Notified!
Subscribe to my YouTube channel today!

Find Intuitive Tuesdays Series on YouTube here!

Everyday Intuition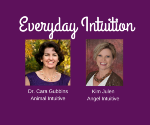 Session 1: Discovering Our Gifts

Session 2: Who Are Our Helpers?

Session 3: Everyday Intuition

Session 4: Professional Intuition










Part 1 – Prepare to meet your guides


Part 2 – How to meet your guides

Part 3 – How to Work with Your Guides

Part 4 – How to Receive Guidance 




Part 1 - Energy Tools for Self- Care 

There are so many tools to take care of your own personal energy and we cover many of them in this informative video! PLUS, you receive access to my
Instructions on How to Use Incense Sticks to Clear your Energy


Part 2 - Tools for Environmental Clearing 

Provides information and examples on how to use a number of energetic tools that help clear and raise the vibration of your environment. Take advantage of my special offer to save $53 on a Quick Shift Feng Shui Consult with Coupon Code "YOUTUBE"
Schedule here!


Part 3 - Tools for Connecting with & Disconnecting from Others 

Connecting with others is a beautiful part of the human experience. In this video Cara and I discuss how to connect more deeply with others using energetic tools and also how to disconnect from others to keep your energy field clear.
Connect with me - Schedule a Virtual Coffee Chat today!

Part 4 - Tools for Manifesting 

There are so many powerful tools that you can use to manifest wonderful things in your life. In this video Cara and I discuss some of our favorite tools. One of my favorites are Feng Shui Dream Boards.
Order your online kit for only $22 here!

Universal Guidance - Signs, Symbols & Synchronicities!
Part 1 - Signs
Learn what a SIGN is and gain an understanding of how signs are given to us on a regular basis as guidance by our Spiritual Teams and Angels.
Part 2  - Symbols
Learn how a SYMBOL is different than a sign, how they can be interpreted and examples of symbols and how to use them to guide your life.
Part 3 - Synchronicities
In our final Intuition Tuesdays episode we discuss synchonistic event and how these show up as messages from your Spiritual team to guide you in your life.