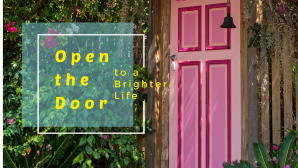 Welcome to my Tribe! 

I am so happy you've decided to join the Finding Your Fiji community. 

I promise we'll have lots of fun here!

My mission is to help you "Find Your Fiji" ~ your dream life, whatever that may be for you. I'll be sharing many amazing tools and tips to bring more flow and harmony to your life and spaces. 

Thanks for trusting me with your email address. I'm 100% spam free, and will be stepping into your inbox just a few times a month with a mix of Feng Shui tips, client stories, weekly energy + other juicy goodness!

Open the Door to a Brighter Life provides 6 keys to help you experience FRESH ENERGY and more FLOW in your life! These are quick and simple feng shui tips you can use to open the door to more of what you want in your life. Feng Shui is one tool which helps you create an environment that supports both you and your Dreams! How do you know it's working?  You will feel the difference in your space (feel more comfortable, supported and peaceful) and you will experience new things happening in your life.



Are you ready for more FLOW?! 

Let's get this party started! 






And WATCH your Email for a FREE BONUS training -->The FIND YOUR FLOW series includes:

Video 1: How your Home May be Blocking your Flow
Video 2: Focusing on Desires and Dreams Can Create Flow
Video 3: Find Your Flow by Tuning into Guidance

PLUS BONUS Video – the Find Your Flow MASTERCLASS where I reveal:

✔ What being in the FLOW means
✔ The 9 Secrets to Finding your Flow
✔ How to Remove the Static in your life
✔ How to get help finding your FLOW