Hi, I'm Kim Julen, founder of Finding Your Fiji, thought leader, writer, entrepreneur, speaker and Feng Shui Intuitive Coach. I am passionate about helping you
Find Your Fiji
and live a more joy-filled, happy and harmonious life.
In the past, I was a stressed and overworked insurance claims adjuster, a do-it-all mom of two young boys, unhappily married and overweight. I wanted more from life and became captivated with personal development, studying everything from Angels and the Law of Attraction to Energy Medicine and Feng Shui. Over the past 15 years I learned to shift my thoughts, follow my intuition and create an environment in my home and office that supports me. In doing so, I have transformed my life. I've been self-employed for the past 12 years doing work I love, I have connected and peaceful relationships with my boys, travel frequently, and most of all am happy!
You want more from life, right? Everyone does!
Desire is part of the human condition and a beautiful thing!
We all have challenges in our lives. My mission is to share the huge toolbox of techniques I have gathered to help you navigate your challenges with ease and grace. I am a master at helping you shift out of your head and into your heart to find your own personal Fiji within your home and life.
Welcome to Fiji, my friends!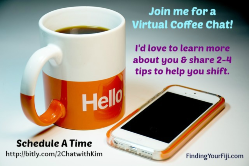 I'd love to learn more about you and to give you 2-4 ideas to help you SHIFT.
Schedule your FREE 20 minute Virtual Coffee Chat below! 





In Joy,

Kim Julen, Shift Master
WWS Certified Feng Shui Practitioner
Certified Angel Card Reader