Join me in Hawaii for the Maui Celestial Retreat!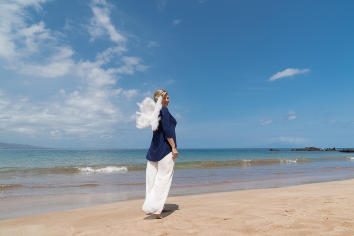 Feeling the
soft white sand
warming your toes as you watch the ocean waves lapping at the shoreline,
palm trees swaying
in the gentle breeze and the scent of
plumeria
drifting by... 
It's the end of an incredible day spent connecting with your
angels and guides
, eating delicious high vibe food and relaxing on the beach!  
You laugh with new friends, sharing tales of boogie boarding for the first time and
feeling like a kid again
. You're excited for the next adventure -   exploring the lush tropical Iao Valley and swimming in a natural freshwater pool!
Breathing in the fresh Hawaiian air and feeling the sun warming your shoulders, you can hardly believe that you are spending a week here... in this
tropical paradise!
 

(It's hard NOT to feel like you're on the movie set of Blue Hawaii!)
Ahhh…the warmth and relaxation of Maui!   Let me tell you more….


Imagine gliding through the tranquil morning water in an outrigger canoe, then learning about the reefs and snorkeling with the most beautiful, colorful fish you have ever seen. The turtles show you how to chill on the beach or float on the salty water without a care! 

Spending the afternoon hanging out at the beach, soaking up the sun and feeling the warm soft sand on your toes (beach chairs, umbrellas & towels are included!) Maybe you're feeling adventurous and rent a surfboard or stand up paddle board... Then soak in the jacuzzi at the villa or walk along the water to my favorite gelato shop in the evening after another incredible mouth-watering dinner.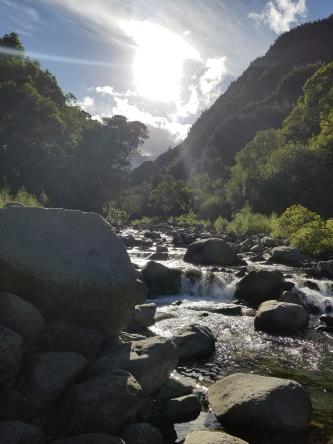 This incredible retreat experience was designed specifically for YOU... with a perfect pace and plenty of open time. One past attendee said,
"Kim thought of everything!"


You will 
connect with your guides
and
learn to use 
practical and tactical tools
for clearing and
elevating your energy level
 all while experiencing a
deep relationship with nature
via the land and waters of Maui. 

THIS is an experience you will remember for a lifetime!
Maui
is indeed a magical place, as it is considered the
heart chakra of the earth
. And Haleakala (our mountain and dormant volcano crater) matches the Schumann Resonance at 7.8 cycles per second, the same resonance of your heart! 

Maui's energy is incredibly receptive and abundant. You will
feel more grounded
and taken care of here
and
because the veil is thinner, you have
greater access to your Intuitive Self
and your spiritual team of angels & guides.
The island of Maui and all the archangels will be
surrounding you with oodles of love
while you are here. You will be "assigned" a specific angel that will work with you during your stay. Further, each room of the villa will have an angel anchoring it and keeping the energy clear! 
This loving and supportive connection will allow you to open and expand your heart and life in ways you may not have dreamed possible.

Getting away from your everyday life, and exploring the lush greenery and endless beaches of Maui will have you feeling
relaxed and primed
to create your
NEW LIFE vision
!  
Doing things outside our comfort zone created expansion, opening & growth
We are never alone
Navigating life is easier together
Respecting the aina (land, traditiions & culture)
Maui broke our hearts wide open to let more light in, more love in & to allow us to be more of who we are
This is life...both tears & laughter
Having the opportunity to use the tools we learned
Built a trust that all will be okay and having faith that all will work out for my best interest
"Downloads" felt very reassuring and transformational
"I loved my experience! 
I felt a space was held to get some insight, feel nurtured by the food and be in company of some wonderful people.
Go for it!
Open your heart and mind
and play and learn!" 

Jeanne Kong, HI
"I received direction to move forward
and expand in high energy in peaceful
Maui with so many wonderful souls.
Kim is very intuitive and amazing and
Maui is a magical place!" 

Kathy Foley, MN  

"When I arrived I was alone, but not I have a great big family of beautiful souls. 




I have experienced more adventure & the ALOHA spirit in this one week in Maui with Kim and the angels than I have experienced my whole life!"



Just do it! 

 - Christie Shultz, MN


 
"It was very rewarding, expanded my mind and my spiritual beliefs."



Helen Vierstraete, MN 

 
"Pack your bags!
It was eye-opening
and I feel more awareness."



Steve Hanson, MN

 
"This retreat allowed me to
step away from my life
and rejuvenate my soul." 

Jean Hanson 
 

"It was beyond beautiful for me."





Karen Vierstraete-Werth, MN 

 

"I am leaving the Maui retreat positively transformed with new confidence and clarity."





Teresa Thomas, MN 

"It was life-changing and entirely worth it. It was a magical experience of personal grown, friendship, self-care...
an experience of a lifetime!" 



Beth Giles, MN  
The Vitally You Retreat will be held at the beautiful and luxurious 
Wailea Inn
on the sunny south side of Maui, Hawaii. You will fly into the
Kahului (OGG) airport on Maui
, which is about 20 minutes from the villa. The villa which a private pool and Jacuzzi, beach chairs, towels, beach toys, umbrellas and much more! Take a peak at these luxurious accommodations below!
Tucked away on a
residential
side street, oceanside of South Kihei Road, the Wailea Inn offers
privacy and convenience
.
There are
unlimited activities just steps away
from the property. You can walk to The Cove beach across the street and go surfing or stand up paddle boarding.
At the end of the street is Charley Young Beach, a long stretch of
white sand beach
great for swimming, beach walks, boogie boarding and watching
gorgeous Maui sunsets
.
Snorkeling, whale watching, shopping, and dining at nearby restaurants are some of the many activities within walking distance from the Wailea Inn.
The neighboring Kalama Park has tennis courts, volleyball courts, basketball courts and running paths. Surf Schools, bicycle and scooter rentals, spa treatments and a farmer's market are just around the corner.  
All food at the Villa will be prepared by our private chef Kyra Bramble of
More Pleaze
(don't you just love that business name?!). And believe me, you will be begging for MORE after you taste her creations! Kyra is so passionate about creating incredible, delectable and healthy food!  More than that...she is intentional about infusing the food with LOVE as she creates it. 
Imagine filling your body with food that tastes amazing, is good for you AND is made with love...for a whole week! 
How do you think your body will feel after that experience?! Our menu is almost entirely gluten free and mostly plant based. Several 2019 attendees commented that they never knew healthy food could taste this good. PLUS you'll have more energy & feel well sated! 

"Through food I have found a way to share my soul with the world."
Kyra Bramble 


Kyra is a Maui local and she loves to nourish others with her delectable creations. A classically trained chef turned yoga teacher and raw food expert, her style is diverse and ranges from therapeutic live food to vegetarian California-Hawaii fusion to high-end farm-to-table cuisine. With years of event planning and front of house experience, her presence is warm and easily meshes with families, individuals, and groups of all ages, shapes, and sizes.

She believes that through food we learn about spirituality, science, history, and our own unique bodies.
Her goal is to inspire others to respect and LOVE the food they put inside of themselves.
 
Some samplings of the delightful food you can expect....








 Upside-down Vanilla Bean Cupcakes
 Cauliflower Fennel Soup
w/ Fennel Truffle pesto
Breakfast Parfaits - YUM!  
 Herb Crusted Crab Cakes with Roasted Bell Pepper
Kyra Bramble is the owner, founder, and head chef of More Pleaze. She has a Le Cordon Bleu degree, a Wild-crafter Certification from Earth Medicine Institute, an Ayurvedic Chef certification from Hale Pule, and a 1000+ hour Holistic Nutrition certification through Hawthorn University, and is a RYT from Mangala Yoga.  
Kyra will be preparing heavenly food that is out of this world
(in keeping with the Celestial theme)!
Food is an important and valuable part of up-leveling your energy and your life. Plus, it's important to nourish your body as you are transforming your mind and spirit! Having delicious, nutritious food prepared for you throughout the Maui Celestial Retreat is only one of the ways you will be cared for.  The Archangels and I are creating a beautiful, nourishing container for your personal growth in so many ways! 
7 days / 6 nights in a

luxurious private villa

at the

Wailea Inn

on the sunny south side of Maui




Our villa is steps from

world-class beaches

, parks, shopping, restaurants and activities




Private pool and Jacuzzi

on the property for sunning, swimming and relaxing




Beach towels, chairs, umbrellas, boogie boards & other beach toys are provided




Healthy, organic, locally sourced meals 

prepared by our private chef including delicious fresh Maui fruits and juices


Transportation from and to the villa and all excursions




Traditional

Hawaiian Lei greeting

upon arrival at the villa




5 sessions of

Nia dance

(ocean front or in the spacious yoga studio)

Outrigger Canoe, Reef Tour & Snorkeling

excursion* (tranquility on the water, turtles & a colorful array of fish!)




Iao Valley excursion* with

petroglyph hike

,

swimming

in mountain fed pool &

lei making




Hawaiian Mythology and

'Awa Ceremony* 




Star gazing

under the Maui sky with astronomer Harriet Witt who brings Heaven down to earth

Experience the

culture of Hawaii

and the true meaning of Aloha




Soak up the sun

and appreciate Maui's world-famous sunsets (you may even see the "green flash"!)




Plenty of time for you to

relax and enjoy the gorgeous beaches

, swim, play & swirl with the energy of Maui

* Learn more about Makoa Quest

mission (leading several excursions with Hawaiian cultural practitioners)




  Sessions to Bring CLARITY & Help you CREATE the Life of Your Dreams:

Engage in practices & meditations to

raise your vibration

(which are easy to bring home with you)




Learn the Hawaiian forgiveness ritual,

Ho'oponopono,

which brings unity, inner peace & harmony to you & others




Deepen your connection with the Angels

, your Spiritual Guides and yourself  




Illuminate your next steps by

opening your heart

to receiving guidance in all it's many forms

Examine your emotions

as a loving observer and awaken to their gifts and messages


Expand your intuitive skills through

reading Angel cards

for yourself & others


Look at your challenges through

playful Improv games

, allowing fun & laughter to release your resistance!
Pay balance in full by check or Venmo & Save $100! 

$3,999* + tax Early Bird
through April 1st
$4,399* + tax After April 1st
$3,355* + tax Early Bird
through April 1st
$3,999* + tax After April 1st
NOTE: If you do not have a roommate, but would like to share a room, I can try to match you with another attendee, but this is not guaranteed.
If I'm unable to match, you will need to pay the private room rate.
    (includes meals + all activities)
$1,988* + tax Early Bird
through April 1st
$2,188* + tax After April 1st
* Hawaii General Excise Tax (GET) is 4.166% on all products and services.    
Pay balance in full by check or Venmo & Save $100! 
Rooms will be assigned based on registration date so the sooner you register the better!
Note: All bedrooms have their own private bathroom with the exception of the two loft bedrooms in the penthouse, which share a bathroom. There are also 2 half bathrooms also available on the lower level of the penthouse.
Reserve your spot NOW with a $555 down-payment!
Additional Payments
50% of the remaining balance is due 30 days after registration
Remaining balance is due on July 1st.
Monthly payment plans are also available!
Cancellation Policy
Deposit payments are non-refundable. However, 50% of the deposit may be applied towards other Finding Your Fiji services if you notify us in writing by April 1, 2020. All cancellations must be made in writing. Cancellations received between April 1, 2020 and June 1, 2020 will result in a total loss of $555 deposit and a loss of 50% of the balance of retreat price. Cancellations received between June 2, 2020 and the trip departure will result in a total loss of funds. 
We reserve the right to cancel the trip if it is not meeting the trip minimum (if we do so your deposit is refunded).
7 days / 6 nights in a luxurious villa at the Wailea Inn in Kihei, HI

Use of private pool and jacuzzi on the Wailea Inn property

Use of beach towels, chairs, umbrellas, boogie boards & other beach toys

Transportation to and from the villa (from airport or your hotel) on retreat start & end dates

16 meals during your stay and on excursions

Use of washer and dryer at the villa

Traditional Hawaiian Lei greeting upon arrival at the villa

5 sessions of

Nia dance

Outrigger Canoe, Reef Tour & Snorkeling excursion with Hawaiian cultural practitioner

Iao Valley hike & traditional lei making with Hawaiian cultural practitioner  

2 hour Star Gazing session with local astronomer legend Harriet Witt

Transportation to/from all excursions off property

4 Group Sessions with Kim

Swag Bag

filled with items to support you during the week and upon your return home from Paradise!



• Your round-trip airfare from your home to Maui, Hawaii
• Transportation to and from your hotel or condo and the airport, should you choose to extend your trip before or after the retreat
• Dinner on Sunday evening
• Other non-included items would include souvenir shopping, personal phone calls, extra spa services, taxis and laundry services
• Any activities, healing sessions, massage & tours not included in our package
• Alcoholic beverages, non-included drinks and snacks
• Tips for the drivers, guides, maids and bell boys
• Personal, medical or trip cancellation insurance, medical costs, the costs of hospitalization and evacuation from remote areas, additional expenses arising from the delay or extension of a trip due to weather, political disputes, sickness, failure of transportation, or other causes beyond our control.

→
Trip insurance is recommended! 
Check out options here!



It's said that a picture is worth a thousand words and I'll add that videos say even more! 


Check out retreat related videos here!
Not Sure if the Maui Celestial Retreat is for you?  
Schedule a chat with Kim and she'll help you determine if it's a good fit! 
Space is limited!  Open to men and women, singles or couples.
Reserve your spot now
with a $555 down-payment!  


Dear Beautiful Soul, 

Believe me I KNOW how frustrating it is to feel you have a big purpose in life and be unable to embrace it or create it.


Moving to Maui changed everything for me.


The energy of Maui is healing and transformative beyond what words can express.

Don't worry, you don't need to
move
to Maui! Through my journey here and living on this magical island I've learned
key tools
that allow me to live a vibrant, joyful, calm and connected life,
every day
. And more than that, I'm happy! Even though I haven't created
everything I desire to experience in my life, I feel good!
And you can too! 
During this transformative week long retreat I'm
sharing some of my best tools
with you for CONNECTION, CLARITY & CREATION - on the
beautiful tropical paradise of Maui
! 


The Maui Celestial Retreat is different than any other retreat you have ever experienced...
You will be surrounded by the Archangels
all
week long


Since they are always around me and you will be spending the week with me, you get to hang out with them all week too. You will have a specific Archangel anchoring your room and assisting you throughout the week with whatever Spirit guides you to work through.


I will be clearing each and every room myself and calling on the Archangels to anchor the space for you. Plus, I'll be sharing with you how to connect more deeply with the Archangels and
develop a stronger relationship with your Spiritual Team
of angels and guides.




Maui IS magical! It is a powerfully potent place to
revitalize, relax and raise your vibration
. Because Maui is the heart chakra of the earth and contains a unique vortex of energy and ancestor support, it
will
change you.




In 1 week you will experience more personal and spiritual growth than you may have experienced in years!

Those of us who live on Maui often say living here is
personal development on steroids. 
Maui provides a unique opportunity for you to heal old wounds and
shift your life experience
and a beautiful, comfortable paradise in which to do so.


Maui Heals You


If you're ready to create a life and business that is connected, clear and creative,
JOIN ME October 9 - 15th, 2020 for the Maui Celestial Retreat!


Love & Hugs 

Kim


Space is limited!  Open to men and women, singles or couples.

Reserve your spot now
with a $555 down-payment!